From Pathway: A Family History
A Pleasant Places Project from biographiks
Hoagland History
by Samantha Beuhring McGinnis Coplin Young
from the Potomac River to the Ohio River about 1800

Search
Highlights
Quotes
Index
Conclusion and References
Autographs
Music
Paperback
Preface
1: Rulers of Ireland
2: Publicans to Preachers
3: Gone to Texas
4: West Virginia Home
5: The Swedish Connection
6: Next Stop: Katy, Texas
7: Ruth and Rex
8: Sinners in Salem
9: Yankees Go South
10: Wandering Irish
11: Among the Cajuns
12: Pennsylvania Scotch
13: End of Plantations
14: From Dukes to Doctors
15: Lutherans on the Farm
16: Elva Meets Alpheus
Quoted from "William D. and Matilda Davis Young: Their Ancestors and Descendants, Including Brief Reports on the Bear, Cline, Davis, Groff, Hanger, Hottel, Hoagland, Marsh, and McGinnis Families" 1994, from a diskette owned by Bruce C. Young Jr.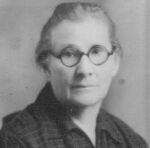 In a letter to an unknown "cousin," Samantha Beuhring McGinnis Coplin Young (1856-1933) reported on her Hoagland ancestors. Her granddaughter, Frances Young Simers, has this letter which is faded and difficult to read in some places. Comments of the editor to clarify some parts of the letter are enclosed in brackets.
"John Hoagland, a resident of Hampshire County, Va. [now WV] located on the South Fork of the Potomac, with a large family of children. The oldest son, Henry, went to Kentucky about 1790. [and later to Indiana] A daughter married a man by the name of ? who went to Kentucky at or about the same time.
One daughter married William Renfoot: this family, with the exception of their oldest son, William, who lived at Martin's Ferry, Va. and was County Surveyor of that county for many years. We received many letters from him during the last of the 60's and first of the 70's, settled in the southern part of the Sciota Valley near the Ohio River west of Portsmouth. One daughter married William Alexander and settled at an early day at or near Thomasville, Licking County, Ohio.
"John Hoagland with his entire family in the fall of 1796 started for Kentucky. The oldest son at home [Cornelius] was married in March to Anna Stellcup. In the fall Cornelius and Annie with 35 head of cattle, a three-year-old thoroughbred filly that Anna rode and carried the camp equipment for cooking on the way, a two gallon demijohn would be filled with milk and the jostling on the horse's back would churn it and this supplied them with butter. Cornelius with his trusty rifle to drive the cattle and to keep the herd with Annie and the horse. There was a trail blazed through by way of Clarksburg to Williamstown and Parkersburg, Va. [both now WV, Williamstown being north of Parkersburg on the Ohio River] John Hoagland with the family consisting of his son-in-law, Tom McGuire and two children, his youngest son, John, and some daughters started to the Mononghela River where they shipped for Williamstown [via this river and the Ohio, and Pittsburg] where they were to meet Cornelius and Anna with the cattle. Some of the family were sick which detained them for several days at Pittsburgh. Winter set in in November, the river closed and remained so till the lst of April.
"Cornelius and Anna arrived safely in due season at Williamstown and leaving the fate of the family he went back from the river 7 miles to a place that has been known as Hoaglands Run ever since, built a camp where he and Anna, the filly, and 35 head of cattle spent the winter. The cattle fed on pea vines and brush he cut for them and corn he packed on the filly from Blennerhasset Island. He got the herd all safely through the winter. When the family came down [the Ohio River] in the spring, they took everything into consideration they decided to put up in Wood County, Va. now [WV]where one of the daughters married. John Hoagland died and was buried at Williamstown, Grandmother, after John's death, married an old friend that lived near their old home on South Branch and she went back with son John and one daughter, we think.
"In the spring of 1801, Cornelius and two children, Polly and Margaret, my mother [mother must be an error in copying would have to be grandmother], and Thomas McGuire and family bought land and built cabins and settled in Barlow Washington County, Ohio]. Cornelius opened up the first tavern on the road from Marietta and Athens and on to Chillicothe, was elected first justice of the peace which he filled during life. He was killed in felling a tree, in cutting timber for building the old brick house on the Hoagland farm in Barlow, in the spring of 1818. [elsewhere in letter, Cornelius's personal property was appraised at $ 8,488 when his estate was settled - a considerable sum for that day.]
"Grandmother [actually Samantha's great grandmother, and the Grandmother, wife of John H., mentioned on the previous page, was her great, great grandmother] went on and built the house but not so large as was contemplated by Grandfather [great grandfather]. ... When Uncle Elza Hoagland went to Indiana, they found a family of Hoaglands that came from Kentucky who said their father's name was Henry, and they had no doubt but what they were descendants of Cornelius' brother, Henry, that had emigrated to Kentucky in or about 1700. We have been asked so often about the Hoaglands, their ancestors, and where their descendants were located. If we had written all my mother knew it would have been a very interesting book to me to read today, and no doubt it would be to you. Before we forget we will state that in first settlement here in Barlow and in Wood Co., Va. [now WV] that there was a heavy growth of pea vines all through the forest everywhere. That made excellent pasturage for stock of all kinds. There was! but very little underbrush till after the settlers got in and forest fires had burned over and killed out the pea vines and other grasses. Then the underbrush came up so thick as it is in our day. Now cousin admit (I do) that our Great grandmother was a wonderful woman whose courage would of been a surprise to the ladies of today. Think of it, living in a camp 7 miles from a house, staying many days alone. The forest stocked up with bears, wolves, panthers, wild cats, deer and turkeys. While here she learned to use the rifle, the wild game coming close to the camp cost them their lives. She was a fine shot. She shot a large hawk in a tall oak tree, in the top of the tree, that had come for a chicken.
"There is so much that I have forgotten of the Hoaglands. One more little item we will give you that will give you a still better knowledge of their courage and honor and pure unselfish love for their friends. A brother of John, father of our Grandfather, Cornelius [Great Grandfather] had a brother [This is not clear, but Samantha apparently was referring to her great, great, great uncle] that when they suffered so much from the raids made by the Indians on the settlements that he consecrated or gave his life for the safety and comfort of the husbands, mothers, and children of the settlement and stood a constant sentinel and guard to watch and if possible prevent them from making an attack on the settlement. He was in many conflicts with them, two in which he was tomahawked, scalped and left for dead, but in each case came to again and recovered his health and returned to the border to stand guard again. In a battle with the Indians they captured him for the 3rd time, and it was a law of the Indians that, when a foe had been captured and left for dead twice and they recovered and was captured the third time they run no more chances. They took their prisoner to Tippecanoe, Indiana, one of their towns where their braves assembled to have a grand festival at certain periods, and at one of these national gatherings our dear relative was burned at the stake. Our Uncle Elza and David when they went west, a part of them, and, we think, all of them visited the place where he was burned."
Back to Chapter 5
---
  Preface  Chapter   1   2   3  4   5   6   7   8   9   10   11   12   13   14   15   16   Conclusion
Narratives are taken from Pathway: A Family History, ® 2001, Michael McGinnis and may be freely distributed for non-commercial purposes.
---