Pathway: A Family History

A Pleasant Places Project from biographiks


Search
Highlights
Quotes
Index
Conclusion and References
Autographs
Music
Paperback
Preface
1: Rulers of Ireland
2: Publicans to Preachers
3: Gone to Texas
4: West Virginia Home
5: The Swedish Connection
6: Next Stop: Katy, Texas
7: Ruth and Rex
8: Sinners in Salem
9: Yankees Go South
10: Wandering Irish
11: Among the Cajuns
12: Pennsylvania Scotch
13: End of Plantations
14: From Dukes to Doctors
15: Lutherans on the Farm
16: Elva Meets Alpheus
Chapter 16: Elva Meets Alpheus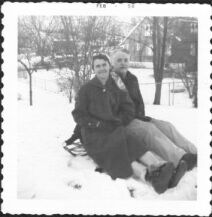 Gloria Evangeline Garrett (7) was raised on the her father's farm. Her family called her Elva. When it came time to move to a new house on another part of their property, the five-year-old girl hid under the house, the home where she was born, until her father Edmund Ashorn gently consoled her by saying the new house would have a fireplace.
Little Elva lived in a German-speaking world. Prejudice during World War I didn't cause her much trouble, though vandals might paint the barn yellow. But she couldn't speak English. As a first-grader, Gloria announced to her father, "I'm not going back to that school. I can't talk like they do." Her teacher (who also spoke German) had explained to the little girl, "Elva, this is America. You have to learn English sometime." So her father agreed to have a talk with her teacher, and after that her parents began to "talk English to her."
Though memorizing and reciting were sometimes hard for her, she loved school. The Ashorn children went to the Old County Line School in Latium, 80% Czech Catholic, with the church right by the school. They went on foot at first, while other children passed them with horses. They took their time, cutting through the pasture of a neighbor who always told them, "You're going to be late!" Later they had their own ponies to ride, and Gloria's was named Brian, a big dark horse.
Gloria's parents raised geese, ducks, guineas and turkeys. She loved the ducklings, but once a gander chased her. She was an obedient child. If she did wrong, her mother might say, "You know better." Of all her relatives, she was closest to her double first cousins, the children of Emma and Willie Findeisen. Until the end she kept up with Adina and Della. Iola taught her to sew and to thread a needle, and they played with dolls together. One Christmas eve, when Gloria was not quite 16, she drove her siblings and her cousins to Welcome, TX in her father's Model A, several of them in the rumble seat. They having a fine time, until she almost ran off the road on a sharp turn. That sobered the young people up. She didn't tell her papa. They also owned a buggy (which her brother Herbert didn't like) and a surrey with the fringe hanging down.
Gloria was confirmed in the Welcome Evangelical Lutheran Church. Pastor Appel taught the two-year class in a mixture of German and English.
When they didn't know an answer, the grouchy preacher would demand, "What's the reason you didn't learn it?" and no matter the answer, would invariably retort, "That's no excuse." Though she liked school, her brothers liked fishing instead, or dancing up a storm in towns such as Shelby, Welcome and Industry. Gloria went dancing with them too.
After high school, Gloria went to business school in Brenham and nursing school in Houston, though her father opposed it. "You know plenty already," he told her. Gloria attended Massey Business College, associated with her employer Humble Oil. But she said the secretarial life was "not down my alley." She found the business world "dry" and she tired of saying, "Yes sir, yes sir," as if her bosses wanted her to "kiss their toes almost." So she went to nursing school in Houston. There, Gloria lived with her aunt Ella, now no longer in Temple since the lady she lived with had died. Before Gloria was married, she worked at places such as Foley's Cafe and Gingham's Sandwich Shop, and at Memorial Hospital and St. Joseph's Hospital. She continued to work for two years after her marriage in 1931, but tried to stay home after the children were born.
When World War II came, Herbert was exempted from the draft so he could help on the farm. Edmund Jr. (called Munsel or Honey) joined the reserves, though he told Gloria with deep emotion that he hated war. In college, his imitations of Hitler's speeches shook his friends with laughter. He had already finished law school in Wisconsin and had begun to practice law when he was called into active duty as a trainer in Jacksonville Florida. He was killed by a airplane propeller when a recruit started the engine too soon. Walter joined the Army a year later, out of revenge. He was a paratrooper at the Battle of the Bulge, wounded in the leg and taken to a hospital. When the hospital was bombed, he lay in the snow. Finally he was shipped to a hospital in El Paso but he never allowed them to amputate his leg. He got his teaching degree and spent his career in Eagle Pass near the Mexican border. Their sister Lillian also became a teacher, and Herbert became a diesel mechanic.
In 1929 Gloria Ashorn was studying nursing and living on Travis Street in Seth Parker House with other girls. She had begun attending a young people's meeting at the Methodist Church with some friends from school. She was impressed by the lawyer who was leading the meetings and his biblical teachings, so she kept coming.
One week it was Gloria's turn to help with refreshments. She saw a "black-headed, curly-headed" handsome young man sitting by himself, and asked him what he'd like. His name was James Alpheus Garrett. He said he would take coffee and "this piece of cake." "You sure are choice," she replied as she served him his refreshments. "Where do you live?" he asked. "On Travis Street," she replied vaguely. The young man answered, "I live on Travis too. I'd sure like to walk you home."
When the meeting ended, James escorted Gloria home along with several other girls. They passed her place first, 2225 Travis, and she tried to go inside, saying she needed to study.
"You don't have to study on Sunday night," the young man commanded. So they continued to let the rest of the girls off, one by one, then he had walked her back home, just the two of them. As it turned out, he lived across the street from her. "He was very kind," Gloria remembered. "Can I see you again?" he asked, and she agreed. He took her to a movie, "Walking Through the Tulips" with Jeannette MacDonald and Nelson Eddy. ("We never did care about pictures," Gloria says). Whenever he took her home, he wanted her to "make the light twinkle" in her room (by swinging her hanging lamp) so he could know she was safe. Such requests didn't set well with an independent girl like Gloria.
They continued to court each other, but because of their strong personalities, they didn't always get along. One day she said, "I don't think you need to come see me any more." Yet their stubbornness "finally broke" and, since he had Saturdays off, he took the Southern Pacific train to her family's farm to make it up to her. The night before, she was very careful to make sure her mother knew what to cook for him.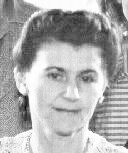 Gloria and James Alpheus Garrett were married in 1931, and had eight children. Their first child, James Truett, was born at St. Joseph's Hospital, while all the others were born at Memorial. In 1937, during her third pregnancy, Gloria Garrett's doctor told her she should expect a big baby boy. When she gave birth under anesthesia on January 1, the nurses brought a girl to her, saying "Isn't she a sweet little baby?" When they brought her a second girl half an hour later, "I thought they were fooling me." But they weren't. Not anticipating twins, she only had one names picked out. James named them later.
With the arrival of the twins, suddenly the number of children in the Garrett family had doubled, with four children under five. Gloria's aunt Ella lived nearby, so she would sometimes help care for them. In 1941, the family went to Colorado for a vacation. An August 18 photo shows the apprehensive little twins sitting next to their smiling mother, climbing Pike's Peak on the Manitou Inclined Railway. They rode donkeys partway up the slope, both twins on a single donkey, but a hailstorm stopped them. James Truett fainted. The parents went on by foot, reaching the summit as the sun came up. For the four older children, most summers were spent on their grandparents' farm near Wesley, picking cotton. Without many modern conveniences, the children enjoyed a watermelon treat after their hard work.
To treat colds and flu, Gloria always used Metholatum, because she thought her mother's Vicks was too strong. She always encouraged them in their activities and schooling. She said they were pretty good children. "They took their baths at night and ate cereal for breakfast."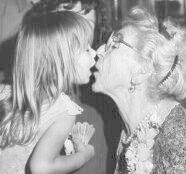 All went to college, many of them Ivy League caliber, and several went to graduate school. They have been attorneys, Peace Corps workers, teachers, mothers, writers, poets, playwrights, diplomats, linguists, researchers, musicians, gardeners, and social work volunteers. She said, "Every child is different. You finally let every child do what they can."
Because of financial pressure, Gloria had to work while her children were at home. She was an LPN nurse at the Children's Hospital in Houston, and ran a daycare. In later years she often did private duty nursing for elderly people, even when she was elderly herself. Many of her patients were German-speaking Jews. From 1933 to 1973 -- 40 years -- at least one child was under 18. From the 1930's even through the 1980's and '90's, until her sons John and David's early deaths in 1996, she had children living with her. She once said, "You weep over your children when they don't even know." From 1957 until her death in 2006, she lived in the same house in metropolitan St. Louis. Though the neighborhood was once so heavily Jewish that the schools were nearly empty on Yom Kippur, it has become mostly African-American.
Though ninety years, an arthritic hip, and loss of eyesight slowed down her 5' 2" frame, Gloria almost always spoke with energy (and always with a Texas-German accent). Like her father, Gloria didn't like people to run over her, but like her mother, she always asked her husband what he wanted to do. When she and her husband were discussing having their eldest son James Truett Garrett christened, she said, "I let him know that he could make his decision."
Referring to Gloria's reading, Frances Garrett Connell says, "Hers was the world of the Bible, Bible stories and devotional books, prayer books; or of magazines and newspapers, many fertile fields from which she clipped recipes or exercises or patterns or commonplace poems." Her faith still encourages her, perhaps more than ever. When her brother Honey was killed during World War II, she grieved deeply for him, "but now I feel entirely different," she said cheerfully in 1999. "Because I live you will live. I believe that. It's written deep in my heart." She often said that a college education doesn't prepare people for the real world. "I pray for God to give me wisdom, not worldly wisdom but wisdom to really know the truth." She urged her family not to work so hard for earthly gain, saying that over-ambition ("I call it greed") distracts many people from God. When Billy Graham gave an evangelistic invitation at his 1999 St. Louis Crusade, Gloria silently prayed, "I am coming, O Lord," from her seat on the floor of the arena. She died in St. Louis, Missouri in 2006, attended by her family.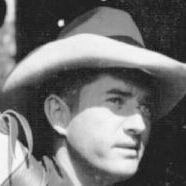 James Alpheus Garrett (6), the husband of Gloria Evangeline Garrett, was named after his great-uncle James Alpheus Kidd but was often called Alpheus by his parents' family. He was about five foot eight inches tall, with a high brow that got higher as he got older. He was the youngest of eight children, with uncles, brothers and sisters who grew up to practice law or medicine, teach music, travel widely, and live in wealth and success. In the 1920's, while a student at Texas Christian University and Southwestern Baptist Theological Seminary, he was assisted by Rev. George W. Truett, one of the most influential Baptist ministers of the twentieth century. He first studied to become a Baptist minister. But his first wife opposed his plans, tore up his Bible and finally divorced him. He ended up with a nervous breakdown and got a job as a park ranger in Estes Park, CO at a boy's training camp, Cheley Colorado Camps at Bear Lake Trail School in Rocky Mountain National Park, where he was photographed with a cowboy hat, neckerchief, harnesses and saddle. His grandson Michael McGinnis was delighted by the silly camp songs he sang for him. In the late 1920's he did a lot of anti-war speaking for the YMCA.
James met Gloria Ashorn in 1929, and after a while, they were discussing engagement. He didn't tell her he had been married before. He wanted to go to a justice of the peace, but she insisted, "I'm going to get married in a church." They had to work through their church differences. Her family had always been Lutheran. He didn't like Martin Luther or infant baptism. His father was Baptist; his mother "Campbellite Methodist." He didn't want their family divided. But he said, "I like that Methodist church you're going to..." And they began attending First Methodist in Houston. They knew each other for two years before they were married.
On November 28, 1931, James and Gloria were married in St. Paul's Lutheran Church, Brenham, TX,
which her parents had begun attending when her sister Lillian was being confirmed. They had gone up from Houston early to spend Thanksgiving with her parents. The wedding was very informal. They were married after the morning service, and used the same flowers from the altar, with a reception afterwards.
Before they were married, James was stamping bales for a cotton company in Houston, keeping records of them. Next he worked for Ford Motor Company for two years, and then Burlington Northern Railroad for two years.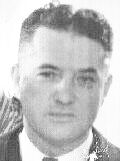 When he and Gloria first married, they lived in an apartment on LaBranch near St. Joseph's Hospital. He worked at Duwell Sulphur Company, which wasn't even in Houston, so he was away from home for four or five days at a time. He finally became an certified public accountant for the Missouri Pacific Railroad, dealing with taxation and regulatory affairs, until he was 70. After he retired, even into his eighties, he joined a realty and set up sales appointments. He was often discouraged that his brothers thought he was a failure, and longed to be closer to his family.
James became very active in the choir when they joined First Methodist Church of Houston after their marriage. The choir met an hour before the service and since they had no car, James would catch the bus at Westcott. Gloria would pack up the children, including the twins, and come later. When they bought their first car, a green, four-door '49 Studebaker, the whole family would come to church early for choir (David Garrett says, "squeezed in like sardines.") They eventually had eight children: James, Evelyn, Louise, Eloise, David, John, Frances and Daniel.
In 1933 the Garrett family built a wood frame house in Houston, where eldest son James Truett Garrett still lives, in the Camp Logan area near Memorial Park and Washington Avenue. The family had a garden on a lot across the street, where James and Gloria grew vegetables and even watermelons, with the help of an ever-present manure pile. For a time, James was digging an underground bomb shelter in his garage after work but never finished it. He often had to borrow money to support his family ("from loan sharks," Gloria Ashorn Garrett calls them), and never really finished paying off the high-interest loans until his later years. He did succeed in repaying a $2,000 loan to his wife's Aunt Ella, always $50-$100 a month, and once $500.
James, like his father, was a frequent writer of letters to the editor in the 1940's, then again in the 1970's and 80's. In 1983, he wrote, "What a travesty! Marines to Lebanon for peace, a sovereign nation island invaded to "rescue" non-existing captives! Maybe perversion of the truth has become the style in certain quarters? Bring peace by waging war?" At one time he wrote a regular newspaper column signed "Meefol." He discussed such topics as schools and declaring war on the moon instead of on other countries. He also wrote poetry; for example, comparing tanks to "blinding behemoths of hate," or his son David's curls to "seal of innocence and childish trust." About 1945 he was reading poems on the radio.
Besides singing in the choir, at one time James taught Sunday school, a class dominated by himself and another educated man.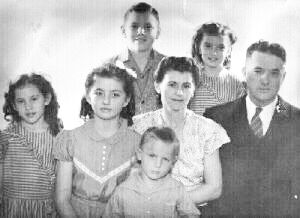 He insisted on being right and sometimes, Gloria innocently says, "I wished he would just stop talking." He even picked a theological fight with the opinionated Lutheran pastor who presided over his son David's confirmation in St. Louis. Of course, Gloria had her own opinions about things, and several times a week their disagreements turned to fighting. While she could be insistent, her husband could be intimidating. "Don't shed those crocodile tears," he would often tell her. While she got cold at night, he got hot, violently kicking the featherbed onto her and sleeping under a sheet or maybe a blanket. One habit they shared: they always voted Democrat.
With a local Catholic priest, James canvassed the neighborhood and successfully lobbied Houston City Council to have a swimming pool built in Memorial Park. He ran several times for school board, providing the occasion to take family portraits to use in campaigning. As president of the PTA at Memorial Elementary, he worked to get school lunches and breakfasts for the poor children. The Garretts were the last family on the block to buy a TV set. Frances Garrett Connell writes that her father "was a devotee of the evening paper" and when his children weren't watching him, he read books on travel, history, philosophy and theology. He attended his sons' ball games, but didn't really spend much time with his children. One Christmas, his brother-in-law Herbert Ashorn convinced him to tromp around on Herbert's roof so the Ashorn children inside the house would think it was Santa Claus. It must have been very convincing until James shouted "Ho ho ho!" Then they recognized his voice.
In 1957, just a few years before retirement, Missouri Pacific transferred James Alpheus Garrett from his home in Houston to St. Louis. He was 56 and with four children at home, had no choice but to move his family. "He cried when he had to leave," recalls Gloria. James tried to borrow money from his brother so he could afford to stay in Houston, but was turned down. Their first year in St. Louis, they told themselves they would probably move back, but they never did. At the end of his life, he suffered a stroke that partially paralyzed his body. He would cry every time he went to church in his wheelchair. James Alpheus Garrett died on December 18, 1984 in St. Louis, MO, and is buried in New Ulm, TX near his wife's family.

MAPS
Wesley, TX   
Welcome & Bleiberville, TX
New Ulm & Frelsburg, TX
Weatherford, TX
Bear Lake, CO
Houston, TX
Memorial Elementary School, Houston, TX

Next... Conclusion


---
  Preface  Chapter   1   2   3  4   5   6   7   8   9   10   11   12   13   14   15   16   Conclusion
Narratives are taken from Pathway: A Family History, and may be freely distributed for non-commercial purposes.
© 1996-2004, Michael McGinnis, Bryan, TX
---