Pathway: A Family History

A Pleasant Places Project from biographiks


Search
Highlights
Quotes
Index
Conclusion and References
Autographs
Music
Paperback
Preface
1: Rulers of Ireland
2: Publicans to Preachers
3: Gone to Texas
4: West Virginia Home
5: The Swedish Connection
6: Next Stop: Katy, Texas
7: Ruth and Rex
8: Sinners in Salem
9: Yankees Go South
10: Wandering Irish
11: Among the Cajuns
12: Pennsylvania Scotch
13: End of Plantations
14: From Dukes to Doctors
15: Lutherans on the Farm
16: Elva Meets Alpheus
Chapter 8 - Sinners in Salem
Rebecca Towne Nourse (1409) was born in February 1622 near the sand dunes of Great Yarmouth, Norfolk, England. She was the eldest child of William Towne (2818) and Joanna Blessing (2819). William was the son of John Towne (5636) and Elizabeth Clarke (5637). William and Joanna came to America in 1655, received a land grant in Salem, MA in 1660 and moved to Topsfield the next year, though by that time Rebecca was already married with children. She eventually had eight. Years before Rebecca was brought to trial in Salem, Joanna was rumored to be guilty of witchcraft and of passing it on to her daughters.
In 1692, some neighbors called on Rebecca, by then a 70 year old grandmother. Not suspecting anything unusual, she greeted them cordially. When asked how she was doing, she told them frankly that she had been sick for almost a week. "Yet she blessed God for it, for she had more of his presence in this sickness than sometime she have had, but not so much as she desired, but she would with the apostle, press on to the prize of the upward calling in Christ Jesus." The sympathetic neighbors then told her that she had been accused as a witch by the "afflicted girls," the group of hysterical children and women who were the current center of attention for the whole colony, whose fits and hallucinations eventually led to twenty executions. Rebecca was silent, dazed.

"Well, if it be so, the Lord's will be done. But what sin has he found in me unrepented of that he should lay such an affliction upon me in my old age?"

Rebecca Nourse, Salem Village, 1692
Indeed, a more unlikely witch could hardly be found. Rebecca and Francis Nourse were long-time members of First Church, Salem, though they usually attended the daughter church in Danvers with their son Samuel's family. Because of her age and the respect she received from the church, instead of sitting with the other women, she was given a seat with the men, in the same pew with Priscilla Gould Putnam (2833), the widow of the powerful founder of the Putnam dynasty. In those days, in Puritan churches, membership meant covenant making and covenant keeping, in which Christians expected their elders and fellow members to hold them accountable to walk a godly path. If anyone fell into sin, the church felt responsible to help lead them to repentance. Sickness had recently kept Rebecca Nurse from attending church meetings, but her only fault seems to be that she lost her temper occasionally. Robert Calef, a contemporary chronicler of the witch hunt, wrote that the details of "her extraordinary care in educating her children and setting them a good example" were too numerous to mention.
Edward and Ann Putnam presented the formal accusation against her and she was arrested on March 23, 1692. She answered each question as forthrightly as she could. Charged with having killed more than a dozen people by sorcery, she declared, "I am as innocent as the child unborn." At one point in her trial, she raised her hand to heaven and prayed, "O Lord, help me. I have got nobody to look to but God."
The court ordered women to examine her naked body for signs of a "witch's teat" but midwives on June 28, 1692 testified that the mark found was simply a "physical weakness partly through childbirth" and asked the court to examine her again. Almost forty people signed a testimony that "we have never had any cause or grounds to suspect her of any such thing as she is now accused of." The document was signed by Jonathan Putnam, who had helped bring her to trial, and by Benjamin Putnam (308), whose granddaughter Eunice later married Rebecca's great-grandson.
During Rebecca's trial, no evidence of witchcraft could be found against her, except for the afflicted girls' graphic claims, and the jury found her not guilty. The reading of the verdict was followed by renewed wailings from the girls and the judge's exhortation to reconsider a chance comment she had made during her trial, when another accused woman was brought into court to testify. Rebecca Nurse asked, "What, do you bring her? She is one of us." She meant one of the accused, but the court imagined that she meant a fellow witch. When the jury foreman asked her to explain her statement, she didn't hear his question, being "something hard of hearing and full of grief," as she said later. But her strange silence was interpreted as Satanic perversity, and she was sentenced to death.

"Would you have me belie myself?"
Counseled by a sympathetic member of the court that she could be spared if she confessed, Rebecca's reply was, "Would you have me belie myself?" Though already excommunicated from her church, she was more afraid of God's judgment for lying than of man's judgment for standing by the truth. Rev. James Allen, the man who had sold the farm to the Nourses before becoming pastor of First Church of Boston, tried to protect her. Allen even appealed to his friend Increase Mather, the founder of a family of Puritan theologians whose popular son Cotton Mather supported the witch hunts. Governor Phipps reprieved her but changed his mind under pressure when the afflicted girls cried out again.
On July 19, 1692, Rebecca was bound, put into a cart with seven others and driven up a rough, rocky road west of Salem. From that bare hill, they could look down on bay, river, ocean, farm, field and forest. A large tree stood before them. There they were hanged to death and thrown off into a shallow pit. Her sons took her body under cloak of night, probably by water, and buried it secretly on their farm near Danvers, which is now a historical landmark open to the public. Her grave is marked by a tall stone and a poem about her by John Greenleaf Whittier: "O Christian Martyr who for truth could die/When all around thee owned the hideous lie!/ The world redeemed from Superstition's sway/Is breathing freer for thy sake today."
Francis Nourse (1408) was a Puritan traymaker, born around 1618, who came from England to Massachusetts about 1638. He married Rebecca Towne about 1645. Besides trays, churns, tubs, firkins and troughs, he probably made wooden rakes, shovels and plows. He often served as a "lot-layer" or surveyor in Salem Village (now Danvers), plotting out roads, settling boundaries, assessing property and umpiring disputes. He and his wife Rebecca settled first at "Skerry's" on a peninsula in the North River above Salem. Later, he purchased the 300-acre Townsend Bishops Farm from Governor Winthrop's heirs for 400 pounds on April 29, 1676. Though he was only a common craftsman, he could afford the purchase because he had no down payment. He paid seven pounds a year for 21 years, giving him and his sons time to make the farm successful enough to provide the final payments.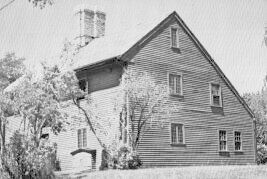 By the time they were done, the farm had an orchard, a flax patch, a flower garden, pastures and fields surrounded by stone walls. His daughter Mary and her husband John Tarbell lived east of him as did his daughter Rebecca and her husband John Preston, while his son Samuel lived just south of him -- four families within a few miles. Francis built roads so he could visit them all. His 1636 house, with its dark-colored oak hewed with broadaxe and its solid door decorated with nails, still stands on a hill there at 149 Pine Street in Danvers, next to several recreated colonial buildings.
Controversy over the boundaries of the farm, which had once belonged to Governor Winthrop, may have fueled the jealousy against Francis' family which resulted in his wife's death. In a sense, the village conflicts, though reflected in the witch trials, were a clash between the traditional leaders and the "new money" of Salem and Boston. Also, the Nourses disapproved of the Rev. Samuel Parris, the power-hungry pastor of the Danvers church which they usually attended. Francis had served on the church committee which first requested Parris to come to Danvers in 1688, but when Parris tried to hold out for more benefits for himself, Francis withdrew from the committee. On October 16, 1691, he was elected as one of five members of the Village Committee, all of who opposed Parris. In 1692 when the pastor did nothing to stop the "afflicted girls" from disturbing church services in Danvers, Francis and Rebecca stopped attending, along with Joseph Putnam and Rebecca's sister and brother-in-law Sarah and Peter Cloyse -- a decision that brought all of them into danger. Because of his opposition, Joseph had to keep a horse saddled for a quick escape, and Sarah and Rebecca were both convicted as witches.
On Dec. 4, 1694, two years after Rebecca's execution, 77-year old Francis divided his estate among his heirs, giving them immediate occupancy. He directed only that he be paid 14 pounds a year for his own needs. He kept his "great chair and cushion," a great chest, a bed and a pewter pot. He also kept one mare with bridle, saddle and enough fodder for her. He died the next year in 1695. His home is near present-day Tapleyville, west of the Ipswich road and southeast of the original meeting house.
Samuel Nourse (704) was a Salem attorney who tirelessly argued for years for "taking off the attainder" to vindicate his mother Rebecca's reputation, saying that his "honored and dear mother had led a blameless life from her youth up." A member of the Danvers congregation, he and his brother-in-law John Tarbell (712) were called before the church by Rev. Samuel Parris on August 14, 1692 for not participating in the Lord's Supper and perhaps not even attending church at all. Samuel and John immediately walked out of the meeting. Not really surprising, for Parris had supported the execution of Samuel's mother a month before, and his home was the favorite gathering place of the "afflicted girls," which included Parris' wife and daughter.
Friends and relatives of the Nourse clan, claiming that they "ought not to hear" Parris, forced him to resign his pastorate in June 1696. Then the congregation discovered no one was willing to take his place in the strife-riddled congregation. Finally in desperation, the church called a day of fasting and prayer on October 12, 1697, and God responded by bringing a new pastor, Rev. Joseph Green. Green led the church through a "Meeting of Peace" in restoring the offended brothers to fellowship, forgiving any offense of theirs by saying the church "looked on it as nothing" and that "it should be buried forever." With satisfaction, Green noted in his journal on February 5, 1699, that Samuel Nourse, John Tarbell and their families had received the Lord's Supper in that church for the first time in more than six years. Samuel's wife Mary Smith (705) was the second of three daughters of John Smith (1410), a Quaker, and his wife Margaret Buffum (1411), who married three sons of Francis and Rebecca Nourse.
Nathaniel Putnam (1416), one of three influential immigrant brothers, became head of the prominent Putnam family of Danvers, MA after his brother Thomas died in 1686.

Nathaniel was smart, perceptive and energetic, very active in business and skilled at it. With his father John Putnam (2832), Nathaniel left Aston Abbots, Buckinghamshire, England about 1634 and came to New England. He married Elizabeth Hutchinson (1417) in 1651. Before 1673, he and his brother John invested in an ironworks on lands they owned in nearby Rowley. When the financially-troubled enterprise burned in 1674, they sued the managers for negligence. For years, Nathaniel joined his neighbors in protesting that Salem Village ("the Farms," later Danvers) was too far away from Salem for its men to be expected to share in mandatory guard duty there. For that and other reasons, he wanted Danvers to become independent from the town of Salem. In 1669 a Salem court ordered him to apologize publicly over this issue or pay a fine of 20 pounds.
In 1681, second in wealth only to his brother Thomas, Nathaniel was taxed 9 pounds 10 shillings, while Francis Nourse was only taxed 18 shillings and Samuel Nourse and John Tarbell were each taxed one pound four shillings. He lived on 75 acres acquired from his father-in-law Richard Hutchinson. Even after Danvers built its own church in 1672, (Nathaniel served on the first building committee), a Salem constable seized two and a half acres from his front yard because he refused to pay taxes to support the Salem congregation. He was a steadfast servant to the Danvers church. With his relatives and neighbors (but not his wife), he put his stubby signature on the first Danvers church covenant on Nov. 19, 1689.
"We do, in some measure of sinceritie, this day give up ourselves unto God in Christ, to be for him and not for another, at the same time renouncing all the vanities and Idols of this present evil world..."


Church Covenant, Salem Village, 1689
Nathaniel knew the Nourses for forty years. His land holdings bordered on the Nourses to the south, and the two families bickered about the property line. Yet when Rebecca Nourse was accused of witchcraft by some of his Putnam relatives, Nathaniel defended her, writing to the court, "She hath brought up a great family of children and educated them well, so that there is in some of them apparent savor of godliness." Thirty other neighbors signed a similar letter.
Nathaniel's son Capt. Benjamin Putnam (708) was head of the Putnam family after his father's death. He served in Danvers as church clerk in 1705 and as deacon for nine years beginning in 1709. He first married Elizabeth Tarrant (709), then Sarah Holten. In 1872, his land was owned by "Miss Goodhue, near Sam Wallis' farm."
Benjamin's son, also named Benjamin, was the father of Eunice Putnam (177), who married Francis Nourse II (176) on March 13, 1741 in Salem, MA, uniting the families of the accusers and the accused. Alice Putnam, a dear cousin of Ruth O'Bryan, was also the daughter of a Nourse and a Putnam (and also descended from Nathaniel's son Benjamin). So Alice and Ruth were not only first cousins, they were also 7th cousins and 6th cousins once removed.
Rev. Francis Dane (1414) possibly came to America in 1636 with Rev. Nathaniel Rogers. He was ordained in 1648. Like other Puritans, he longed to see true faith replace cold nominalism in the Church of England. Unlike the Pilgrim Separatists, the Puritans believed the Church could be reformed from within. But that no longer proved possible after 1628, when Bishop Laud presented the King with a list of all the ministers in the land with a letter "O" (Orthodox) or "P" (Puritan) beside each name.

Puritan ministers were shut out from service in the Church of England, and in the next 16 years, 20,000 Puritans seeking to restore "spiritual Christianity" went to New England in what became known as the Great Migration. In Massachusetts they adopted a church order similar to the very Separatists they had once looked down on and became known as Congregationalists.
The second minister of the church in Andover, Francis Dane had lived in Andover for 44 years when the witch trials began. On October 18, 1692 he and Thomas Barnard wrote a letter to the governor and to the General Court. Signed by 24 others, it was the first public condemnation of the witch trials. Dane was in danger himself. Half a dozen of his relatives were accused as witches. Even his pulpit offered no protection: another minister, George Burroughs, had already been hanged. Dane was one of the few pastors who dared to preach against the witch hunt. He warned that his people were guilty of blood for accepting unfounded accusations against covenanted members of the church. In the end, none of his family were hanged. Rev. Dane died in 1697.

"May the Lord direct and guide those that are in place, and give us all submissive wills, and let the Lord do with me and mine what seems good in his own eyes."
Francis's daughter Abigail Dane (707) was examined for witchcraft by the court on August 11, 1692. On August 30 she was brought out of jail for more proceedings and sentenced to death as a witch on September 17. Like Rebecca Nourse, she refused to save her life by falsely saying she was a witch. She insisted that God would not require her to confess something for which she was not guilty. Her daughters, 12 year old Dorothy Faulkner (353) and Dorothy's little sister Abigail, were also jailed as witches.
After 13 weeks of imprisonment, and many efforts by Rev. Dane and Abigail's husband Francis Faulkner (706), Gov. William Phipps reprieved Abigail, releasing her because of insufficient evidence and her pregnancy. Hers was the only special pardon he issued. But the record still listed her as a convicted, pardoned witch, and on June 13, 1706 she appealed to the General Court for her record to be erased.

Edmond Faulkner (1412), the high-born father of Francis Faulkner, received 200 pounds in 1662 as a bequest from his brother "Francis Fawconer of Kingscleare Hants, gent." By that time, Edmond had already settled in Andover, MA, where he was licensed to sell wine in 1648. He may have assisted Mr. Woodbridge in buying the land on which Andover was built, paying 6 pounds and a coat for it to Cutshamache, who was called the sagamore (chief) of Massachusetts. In truth, not only was Cutshamache not the supreme Indian ruler of Massachusetts, he didn't even have enough authority to sell Andover. On April 19, 1676, Indians attacked the town, burning Edmond's house, leaving some settlers dead and taking others prisoner. Many attacks followed. Numerous settlers lost their lives in the the last assault on Andover on March 5, 1698, including Hanna, Edmond's daughter.

Like the Putnams, Richard Hutchinson (2834), Nathaniel Putnam's father-in-law, also came to the Massachusetts Bay Colony in 1634. He was born in Newark, Nottinghamshire, England. A good businessman and a deputy of the General Court, he acquired much property since in 1645 raw land sold for a shilling an acre and a cow cost five pounds. While most Puritans were migrating up Beaver Brook to Beaver Dam, Richard went south near Whipple Hill and bought the Stileman grant, where he cleared meadows on which the church meeting house was later built. In Danvers Richard "occupied the lands in the meadow and upon the hill, at the east, north-east and north of the meeting house." In 1644 he was appointed by the town of Salem to report to the magistrates "such as either lye about the meeting house without attending to the Word and ordinances," or who didn't attend church at all. In 1681 he was taxed 2 pounds 9 shillings 3 pence. Elizabeth Hutchinson's mother, Alice Bosworth (2835), was the second of Richard's three wives. Richard gave away his land to his children before his death.

Benjamin Franklin Nourse (88) with his father Francis Nourse II (176), served for two days as a Minuteman in Captain Flint's company of Colonel Pickering's regiment at the Battle of Lexington on April 19, 1775. Francis had recently served on a committee that sent 26 pounds for the poor of Boston, plus ten pairs of shoes and "one pair mooseskin Breeches." Benjamin has been described as having a "kind heart, blameless life, good abilities, social qualities." He married Ruth Tarbell (89), daughter of Cornelius Tarbell, Jr. in 1781 Merrrimack, NH, not far from Danvers, MA, and much like it in Puritan character, where he became a town leader and a deacon in the church.

Francis and Benjamin Franklin Nourse served in the first battle of the American Revolution.
In Merrimack, Benjamin was one of two constables in 1788, an assignment which involved "warning" citizens about meetings and levying and collecting taxes, as well as keeping the peace. He served as one of two "tythingmen" in 1791, keeping order in church and at public meetings (traditionally by waking up sleeping church members with a long stick), as well as assuring that the moral codes of the town were upheld.
In 1792 and 1799 he was one of several Surveyors of Highways, responsible for the care of town-owned property. He was the Sealer of Weights and Measures in 1798 and 1799. On his wife's headstone in Turkey Hill Cemetery in Merrimack, he is called Benjamin. Esq. His son Hiram Langdon Nourse's family went south to Georgia, then to Louisiana.

John Tarbell (712) was one of the few members of the Danvers church who opposed its pastor Samuel Parris in the village controversy of the 1690's. Parris' other opponents lived in Danvers and paid taxes there, but attended church in Salem or other nearby towns. In 1695, among other charges, John and the dissenting brethren criticized Parris for having supported the accusation of his own church members as witches. But when John heard Parris' "Meditations for Peace," he was "much affected" and said that, "if half so much had been said formerly, it had never come to this." In 1706 John became a member (along with Benjamin Putnam) of the Danvers church's standing committee in 1706, responsible for calling meetings and naming assessors.

Cornelius Tarbell, Sr. (356), son of John Tarbell, was a deacon in the Danvers Congregational Church for 21 years, living in a gable-roofed house on the corner of Pine and Hyde in Danvers. His mother was Mary Nourse (713), making Cornelius a grandson of Francis and Rebecca Nourse. When his grandaughter Ruth Tarbell married her third cousin Benjamin Franklin Nourse, the union eventually made C.D. McGinnis his own eighth cousin. Cornelius was a selectman at Danver's first town meeting on March 4, 1752. The town seal says, "Incorporated 1757 the King Unwilling." Cornelius' wife was Mary Sharp (357), born in Danvers in 1692. After his death in 1765, she probably moved to Merrimack, NH, with her son, where she died in 1783.

Cornelius Tarbell, Jr. (178), grandfather of Hiram Langdon Nourse, Sr., became a leader in Merrimack, NH. A sergeant in the American Revolution, he is often called Lt. Cornelius Tarbell in public records. In 1780 the younger Tarbells were one of eleven families in School District V, together responsible for providing local schooling, probably in a home, for their children. He served as moderator of a town meeting (but only once!) in 1782. Twice, in 1781 and 1784, he was a "tythingman." His wife Elizabeth Giles (179) was born in Danvers in February 1794.

In 1779 Lt. Cornelius Tarbell bought three contiguous parcels of land from Jonathan Blanchard. He sold one, now called the Weston Place, to Rev. Jacob Burnap, a lot located across from the meeting house. In 1792 he sold to his son-in-law Daniel Ingalls, "two tracts the first of that on which my buildings stand together with my house, barn and other buildings thereon." He sold the third parcel to his son-in-law Deacon Benjamin Franklin Nourse, to whom he also sold his church pew for one dollar on October 19, 1796 -- perhaps he was moving back to Danvers in his final years. Though his wife and mother are buried in Turkey Hill Cemetery in Merrimack, neither he nor his father are.

MAPS
Nourse Homestead, Danvers, MA
Andover, MA
Merrimack, NH

Next... Chapter 9: Yankees Go South



---
  Preface  Chapter   1   2   3  4   5   6   7   8   9   10   11   12   13   14   15   16   Conclusion

Narratives are taken from Pathway: A Family History, and may be freely distributed for non-commercial purposes.
© 1996-2004, Michael McGinnis, Bryan, TX Music from the Genevan Psalter arranged by David T. Koyzis.
---