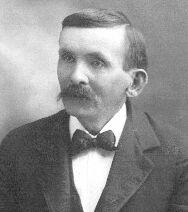 Salathiel Oral Lawson (18), Rex McGinnis's grandfather, was the only one of William Lawson's (36) ten children who went to Texas. His mother Eliza Marshall (37), the daughter of Revolutionary war captain Francis Marshall, Jr. (74) and Phoebe Hatcher (75), was buried at White Oak Cemetery in Ritchie County, two miles east of Pullman, WV on County Rt. 9. Salathiel's grandfather Theopolus Lawson (72) was born in Virginia, one of eight children of Rebecca and John Lawson (144), and married Rebecca Hancock (73) in 1804.
Salathiel married Elmina Meredith (19), daughter of Job Meredith, who had joined her parents' Seventh Day Baptist Church when she was 18. In 1880, Salathiel and two teenaged sons were farming in Ritchie County. They moved to northeast Travis County, Texas a few years later. Salathiel's daughter Addie Lawson came to Texas in 1890 with her husband Enoch Marsh McGinnis. Rex, Delsie and Kittie used to visit their grandparents in Austin in the early 1900's. Kittie wrote from college that Elmina Meredith had saved up 13 chickens for Kittie's visit and comments, "Think of it! She surely expects me to eat chicken." Salathiel died in 1910 and Elmina died in 1912. The name Salathiel, meaning "I have asked God," comes from I Chronicles 3:17, Matthew 1:12, and Luke 3:27, and is spelled Shealtiel in modern Bible translations.
James Amos (1248), from whom Addie Lawson was descended, immigrated to America from Cheshire, England in May 1717, embarking from Liverpool on the "Hamden" with his wife Elizabeth and son Andrew Amos (624). His family had come from Germany to England in the middle of the 17th century. Andrew's son James Amos (312) moved from Pennsylvania to Delaware and finally to Frederick County, MD in 1761. James' son Henry Amos Sr. (156) was a Continental drummer boy in 1778 at age 15 and joined the Home Guard by 1779. Henry married Dorcas Hall (157) in 1780 or 1790. She was from Pennsylvania, though her parents, David Hall (314) and Ann Charity (315), came from Delaware. After the Revolutionary War, Henry was given a 205 acre veteran's land grant on Gladys Creek, Monongalia County, WV. He settled at the head of Indian Creek, where he built a log blockhouse the same year a neighbor was scalped. Rev. Peter Barrack preached there. Henry died in 1837 at age 72. Their family founded Fairview, Marion County, WV.
Stephen Amos (78), their second son, was born near the family farm in Basnettville and married Elizabeth Miller (79) They had seven children, including Mary Ann Amos. The Amoses moved to Berea, WV, which was a Seventh Day Baptist stronghold originally called "Seven-Day Mill." In 1867 a local schoolteacher agreed to request a
post office for the village -- but only if the name was changed. Since a revival had been going on throughout that winter and a Bible school had been reopened, someone suggested the name "Berea," after the city where the Apostle Paul found diligent Bible seekers. His daughter Mary Ann Amos was the mother of Elmina Meredith, who married Salathiel Lawson.
Robert Meredith, Sr. (608) came to Dorchester County, MD before 1701. He and his family settled in Meredith's Corner, Murderkill, Kent County, DE. In Dorchester County, Robert witnessed documents regarding land near the Choptank River, Watt's Creek, Ingram's Creek and Phillip's Creek. At Robert's death in 1727, he had a large Bible. Cunningham's History says the Merediths are descendants of Madog Ap Meredydh, Prince of Powys. According to tradition, the Meredith family left Radnorshire, Wales because of persecution over their Seventh Day Baptist beliefs. Historian Richard J. Meredith, a native of Wales himself, doubts persecution caused this prosperous family came to America, and says the region has a history of fostering religious "non-conformism".
Robert's son Robert Meredith Jr. (304) was born before 1700. He was listed a a cordwainer (shoemaker) in 1735. His 200-acre property was named "Rachel's Delight," probably after his mother or his wife Rachel Wheeler (305). The excellent handwriting on the deed to this property shows it was signed by an educated man. Robert's son, farmer Job Meredith Sr. (152), may have served in the French and Indian War. Job's first wife was Rebecca Davis (153), the mother of Davis Meredith. His second wife was Lydia Whitacre. Because Job was a common family name, many family histories list Davis as being the son of Job Meredith II, the son of Job Meredith I, and Mary Hunn, daughter of Jonathan Hunn. These Jobs were actually Robert's nephew and brother, respectively. Job Sr. and Davis Meredith, along with Luff Meredith and others, helped to found the Cow Marsh Baptist Church of Kent County, DE. Cow Marsh Creek is a branch of the Choptank River.
Davis Meredith (76), a Seventh Day Baptist and the great-grandfather of Addie Lawson, was born about 1757 in Delaware and fought during the Revolutionary War in the Virginia infantry. His parents were Job Meredith Sr. and Rebecca Davis. His ancestor Robert Meredith sailed from Wales as a member of the crew before 1680, and died in Dorchester County, Maryland in 1727. Davis received 34 pounds of military back pay on Nov. 27, 1784. His first wife, Amelia Knott, was the mother of Absalom and Hannah Meredith. After the end of the war, he moved to Loudoun County, VA, where he married again. His second wife, Elizabeth, left him with two children at her death after 1798.
Davis and his third wife, Ann (Nancy) Pritchard (77), were married on Nov. 8, 1800 in Allegheny County, MD by Rev. William Shaw. She was the daughter of Thomas Pritchard Sr. and Rachel Davis. Ten years later, along with four other of Nancy's siblings, the couple had settled in Monongalia, WV. After his stepmother Lydia's death in 1807, Davis conveyed her land in Delaware to his younger brother Job, who had remained back east. Nancy gave birth to seven children, including Job and Davis Jr. who became a Methodist lay preacher. David and Nancy lived first near Cumberland, MD, then went back to Nancy's home in Monongalia County. There they settled on a 37-acre farm on Little Paw Paw Creek. His family was part of the Seventh Day Baptist congregation which had settled in Marion County, WV, when it was still under Indian threat, by May 13, 1792, after having moved as a group from Shrewsbury, NJ in September 1789. Davis bequeathed money to the Baptist Missionary Society in his will dated May 24, 1825 in Monongalia County, VA. At her death in the 1850s, Nancy was living with her daughter Rachel Arnett in Monongalia County, WV.
Thomas Pritchard I (4928) arrived on the "Abigaile" in 1620 and 1624 (he went back to England for a while in between) as a member of the Virginia Company. Possibly he was one of twelve carpenters hired to build a blockhouse at the Oyster Rocks on the James River. Though the Pritchards had been one of Northumberland's leading families under King Charles, Thomas's signature is found about 1650 on an Oath of Loyalty to the Commonwealth, perhaps against his will. In 1656, Thomas was elected to the Virginia House of Burgesses as a representative of Gloucester County. In 1661, he bought some land with Gov. Francis West, a friend gained during his legislative career.
Thomas's son Christopher Pritchard I (616) was elected constable in Washington Parish, VA about 1690. He was awarded a land claim and 1,800 pounds of tobacco as bounties for bringing in the heads of eleven wolves killed with his gun. Public records associate him during his lifetime with Old Rappahanock, Westmoreland, Richmond and King George Counties, though the boundaries moved, never him. Part of his land, adjoining George Washington's birthplace, is now the oldest American farm continually owned by the original family, descendants of his wife Jane Muse (617). As a master carpenter and cooper (barrel-maker), Christopher took several young men as apprentices in his trade, teaching them to read and write as well. Pritchards of every generation have tended to gather and preserve collections of books and Bibles. Christopher died about 1730. His estate was valued at 42 pounds, 4 shillings, 8 pence. It included "13 head of young hogs, 5 cows and calves, 2 young heifers and two young steers, 2 old horses, 2 old beds and old furniture, 2 feather beds and bedstead and furniture, 2 old chests and old trunk, 7 pieces of earthenware, 2 old guns, 1 brass mortar and pestle, 1 spinning wheel."
In 1741, Christopher Pritchard II (308) was granted 216 acres of "waste land" by Lord Fairfax. Marked by red oaks, white oaks, cedars and sycamores, the boundaries of the land crossed today's county line between Fairfax and Loudoun Counties. By 1762, after Christopher's death, his widow Sarah Gollathan (309) lost a court case brought against her by the Anglican churchwardens of Cameron Parish. The sheriff seized some of her clothes to pay the judgement awarded to Adam Patterson, including one gown, two aprons, one shift, one piece of an old shirt, one pair of old stays, two ribbons and a pair of old gloves. Certainly other Pritchards had little loyalty to the Church of England or to British rule, and this may have caused some of Sarah's problems.
During the American Revolution, Christopher's son Thomas Pritchard Sr. (154) was rumored to have been a spy for George Washington, whom he had met when they were both surveyors. Though he was often involved in lawsuits in Loudoun County, VA during his life, his name does not appear on the tax rolls during some of the war years. A pioneer born and bred, in 1778 he was charged with swearing a profane oath in the wilderness of Ohio and Yohogania Counties, where he may have gone west to speculate in real estate, if he was not serving in the Continental Army during this period. Before 1759, Thomas farmed land near near Difficult Run. Later, he moved to Leesburg, VA, where the skilled carpenter and mason constructed several homes. He transferred most of his father's Fairfax grant to George Vandivere on May 11, 1760, though he regained it in 1774. He was a wealthy man, whose tithe assessment in 1762 was 37 pounds, 12 shillings, 1-1/2 pence, plus 6,017 pounds of tobacco. The 1771 Loudoun Couty List of Tithables records that he owned three slaves, Hazzard, Dick and Will.
From the 1760s to the 1780s, Thomas continued to lose more lawsuits. He was given a contract to repair the prison, but he seems not to have finished it properly. The court ordered him to pay the costs for guarding two women for felony. He earned 16 pounds and 2,560 pounds of tobacco after he completed the job in October 1766. In 1769, he was threatened with a fifty pound fine, payable to King George III, if he would not "Peaceably and Orderly demean and behave himself toward all his said Majesty's Liege Subjects for one year." By 1794, under the weight of debts and legal judgements, Thomas sold the Lord Fairfax grant. His entire family but one married daughter headed west. Thomas first settled at Wills Creek near the current site of Cumberland, MD. Later he moved to The Glades in Allegheny County, now part of Garrett County, MD, by 1800. By 1811, Thomas was dead, leaving no will.
The family of Rachel Davis (155), the wife of Thomas Pritchard Sr. and the mother of Nancy Pritchard, came from Pembrokeshire, Wales where they founded Cilfowyr Baptist Chapel in the beautiful parish of Manordeifi. The entire Davis family, together with another family named Phillips, left Wales on a small ship out of Cardigan Bay. They first landed in Pennsylvania, where they helped found the Church in the Great Valley at Tredyffrin Township in Chester County, on the original Welsh tract. Later they established a plantation in Fairfax County, later Loudoun County. The Davis family helped form the Short Hill Baptist meeting house along the South Fork of Catoctin Creek near the intersection of Short Hill Mountain Road (now Knollwood Road) and Short Hill Church Road (now Allder School Road).
Despite the Davis's religious background, Thomas Pritchard had to be called into court to cosign for Rachel's uncle John Davis in 1762, when the Baptist innkeeper was ordered to pay more than five pounds to the Anglican church for the poor of Cameron Parish after being convicted of allowing unlawful gambling in his inn, particularly cards and dice. In his will, John bequeathed "one hundred pounds of Virginia currency" to his beloved Cilfowyr Baptist Chapel in Wales. Rachel's aunt Sarah Davis left most of her possessions to Rachel, whom she named executrix of the will, "except some outstanding debts due from poor people who were drove by the Indians, so I remit it then."
Job Meredith (38), the son of Davis Meredith and Nancy Pritchard, was born in Marion County, WV, near Pennsylvania, and settled at the mouth of the middle fork of the Hughes River about 1839. Not long afterwards, he moved to the mouth of White Oak Creek, across the creek from his cousin Peter Pritchard. He married Mary Ann Amos (39) from Berea (where fellow Seventh Day Baptists lived), and she returned there after he died.
They joined the Pine Grove Seventh Day Baptist Church on the South Fork of the Hughes River on Nov. 3, 1844, ten years after its founding. Five of Job's twelve children died in childhood. In 1852, Job relocated to Berea, and died in Salem in 1881, where he had gone just a few weeks before. His strong character and deep faith left its mark on his family, which included daughter Elmina Meredith and his granddaughter Addie Lawson.
MAPS
White Oak, Ritchie County, WV
Berea, Ritchie County, WV
Indian Creek, Monongalia County, WV
Cow Marsh Creek, Kent, DE
Little Paw Paw Creek, now Marion County, WV

Next... Chapter 5: The Swedish Connection




---
  Preface  Chapter   1   2   3  4   5   6   7   8   9   10   11   12   13   14   15   16   Conclusion
Narratives are taken from Pathway: A Family History, and may be freely distributed for non-commercial purposes.
© 1996-2004, Michael McGinnis, Bryan, TX Medieval music used by permission of Internet Renaissance Band.
---